Advertise your brand in front of 4,500 APDT
members and subscribers!
The quarterly Chronicle of the Dog magazine keeps APDT members abreast of contemporary pet dog training techniques and provides a lively forum for discussion of dog training and behavior issues. Regular columns address topics such as how to structure behavior modification programs, training and assessing shelter dogs, handling techniques for veterinary technicians and groomers, training tips, case studies, and much, much more. Subscription price is $50 per year renewed on an annual anniversary basis. Digital subscriptions are available for $25 per year. Multi-year discounts are available for both print and digital editions.
Please email membership@apdt.com for more information on multi-year discounts. For information on advertising, please contact nita.briscoe@apdt.com.
Take advantage of the opportunity to put your message in front of approximately 4,500 APDT members and subscribers. You can't afford to skip an issue!
Why Advertise in APDT's Chronicle of the Dog magazine?
APDT's Chronicle of the Dog magazine is a solid investment for your advertising dollars. Your message can impact approximately 4,500 readers!
Targeted Audience
There are no wasted dollars reaching out to people who don't fit your demographic!
Far-reaching Impact
Our subscribers network with thousands of others a year — dog owners, veterinarians, groomers, petsitters and other pet professionals. Talk to us … and your message ripples into communities across the nation. The APDT Chronicle of the Dog is also part of the collections of several major veterinary libraries.
Influence
APDT members influence product and service purchase decisions. Dog owners look to their trainers for recommendations.
Quality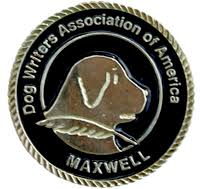 APDT's Chronicle of the Dog magazine has won the 2017 Best Club Publication, Maxwell Medallion Winner as awarded by the Dog Writers Association of America and the 2018 and 2019 Dog Writers Association of America "Best Annual, Special Interest, or Other Topic" Magazine. Our publication has become the premier resource for innovative dog training education.
---